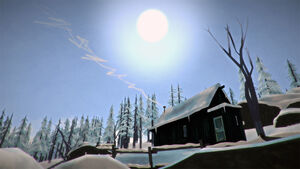 Trapper's Homestead is a location in the south-western corner of Mystery Lake.
Overview
Edit
Trapper's Homestead is accessible from a path to the east and a difficult path to the north-east. Valuable supplies may be scavenged from the Trapper's Homestead, including a hunting rifle along with ammunition.
An open patch of ice and snow surrounds Trapper's Homestead, sometimes abundant with deer and rabbits. Adjacent to the Trapper's Homestead is a small abandoned barn and due further south is Max's Last Stand.
The interior of Trapper's Homestead is filled with valuable supplies. It contains a bed, a wood stove, a workbench, and many containers including a safe.
Outside the Homestead lies an abandoned barn and some birch saplings.
Safehouse
Edit
The Trapper's Homestead can serve as a good safehouse due to the many storage containers, stove and work bench. The Homestead is a very warm building, a fire will not always be required to warm you up. Unfortunately it lies far away from many of the other buildings in Mystery Lake. The raised path to the door can give you some time to either shoot an approaching wolf or return indoors.
Story Mode
Edit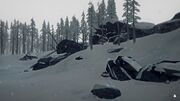 In Episode 2 of the story mode, the cabin is home to the trapper Jeremiah, who occupies the bed at all times. The fire inside is always lit, allowing players to use the location to cook food and boil water without expending matches, tinder or firewood.
In story mode, the items and containers in the cabin are owned by Jeremiah, and searching or looting them will lower his Trust.
A cave opposite the cabin connects Mystery Lake to the Mountain Town region. Players are initially blocked from entering the cave, but are later able to travel through to the lower area of the Mountain Town region. However, they cannot return to Milton due to the absence of a climbing rope up to Milton Park.
Containers
Edit
1 × First aid Box
1 × Drawer
1 × Locker (may require Prybar)
2 × Metal Containers
1 × Plastic Container
1 × Safe
1 x bag
Although there is no fire or light in the building there comes smoke out of the chimney and light from the windows at night, because the same building is used in the start screen making it appear "haunted".
Ad blocker interference detected!
Wikia is a free-to-use site that makes money from advertising. We have a modified experience for viewers using ad blockers

Wikia is not accessible if you've made further modifications. Remove the custom ad blocker rule(s) and the page will load as expected.