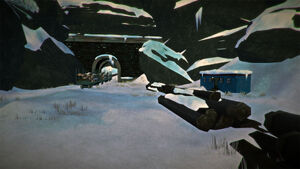 Train Unloading is a location in Coastal Highway.
Overview
Edit
Train Unloading is located at the very north of the region and to the east of the train tracks leading from The Ravine.
Train Unloading's only building is a simple trailer with modest supplies. A frozen corpse and possibly a pry bar may be found on the ground near by.
Ad blocker interference detected!
Wikia is a free-to-use site that makes money from advertising. We have a modified experience for viewers using ad blockers

Wikia is not accessible if you've made further modifications. Remove the custom ad blocker rule(s) and the page will load as expected.