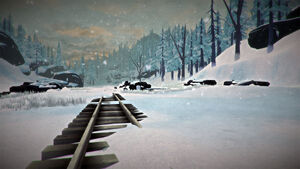 Train Loading Area is a location to the north in Mystery Lake.
Overview
Edit
The Train Loading Area is where lumber was once loaded onto trains to be transported elsewhere. It is located just west of Train Bridge and north-east of Derailment.
The only loot is a corpse, and a deer corpse that can be found sometimes lying in the snow by the side of the railroad, other than that it only serves as a landmark.
Ad blocker interference detected!
Wikia is a free-to-use site that makes money from advertising. We have a modified experience for viewers using ad blockers

Wikia is not accessible if you've made further modifications. Remove the custom ad blocker rule(s) and the page will load as expected.