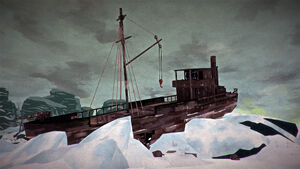 The Riken is a location in Desolation Point.
Overview
Edit
The Riken is a shipwreck of a whaling boat located between the Lonely Lighthouse and Hibernia Processing on top of a rock sticking out of the ice. There is a huge hole in the bottom on one side.
Interior
Edit
The ship has four decks: the boiler deck, upper deck, weather deck and bridge deck.
The boiler deck is dark but contains crates, metal shelves and a furnace & forge at the end of the deck. The forge here is one of the only places in the game where you can conduct forging (the other one is the Old Spence Family Homestead in Forlorn Muskeg). The furnace temperature needs to be raised above 150°C using coal before the forge can be used. Fortunately there is some of it already scattered about. A heavy hammer (which must be brought from elsewhere) is also required as well as some scrap metal and cloth.
The upper deck has bunk beds, a small kitchen to loot, and access to both the boiler deck and weather deck.
The weather deck features an inoperable harpoon gun, direct passage to/from the ice though some broken railings, and stairs to the bridge deck where you can occasionally find useful items.
Ad blocker interference detected!
Wikia is a free-to-use site that makes money from advertising. We have a modified experience for viewers using ad blockers

Wikia is not accessible if you've made further modifications. Remove the custom ad blocker rule(s) and the page will load as expected.