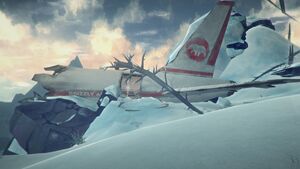 Tail Section is a location on Timberwolf Mountain.
Overview
Edit
At the end of a long series of rope climbs into the upper reaches of Timberwolf Mountain is Summit, on which rests the Tail Section, a major portion of the scattered remains of a plane crash. The Tail Section is shielded from the wind so you can start a fire there, essential because it gets extremely cold at this altitude, particularly in the morning or when the wind is blowing hard. It contains a number of cargo containers that can supply you with nearly every kind of item found elsewhere in the game. Emptying the containers results in well over 100kg of material so it takes quite a few days to loot it completely, since the rappel up to Summit drains around half your fatigue and many rests are required.
There is a corpse underneath the plane's floor, that you can reach by walking towards the abyss (take care). It can be reached by exterior of the plane, or by slowly gliding down from the interior of the plane. However, the player has only one way to leave: the way back is a bit treacherous and you might fall from >3 m (if you are not careful enough), so make sure you remove your clothes, as they might be damaged in the fall. Normally, the corpse holds one Military-Grade MRE, and sometimes, some other random loot such as 1 rifle ammunition or flare shell.
One of two locations currently known to have the Distress pistol, the other being the train caboose at the Ravine Basin.
Several metal containers (random loot)
Cargo containers
Edit
Cargo container A (Not spawned in Interloper)
Cargo container B
Cargo container C
Cargo Container D
Cargo Container E (Not spawned in Interloper)
Cargo Container F (Not spawned in Interloper)
Cargo container G
Ad blocker interference detected!
Wikia is a free-to-use site that makes money from advertising. We have a modified experience for viewers using ad blockers

Wikia is not accessible if you've made further modifications. Remove the custom ad blocker rule(s) and the page will load as expected.