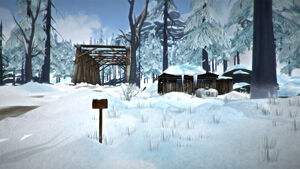 Rural Crossroads is a small settlement in Pleasant Valley.
Overview
Edit
Rural Crossroads consists of a small collection of houses, a small shop and a truss bridge connecting them. Upper Falls can be found the east and Cinder Hills Coal Mine to the north-north-east.
Ample supplies can be scavenged from the houses which can also serve as a suitable safe house for the player. The Rural Store contains a decent supply of food and drinks.
Cat tail plants and reishi mushrooms can be found along the river bank to the west. A car can also be found by a house.
Ad blocker interference detected!
Wikia is a free-to-use site that makes money from advertising. We have a modified experience for viewers using ad blockers

Wikia is not accessible if you've made further modifications. Remove the custom ad blocker rule(s) and the page will load as expected.