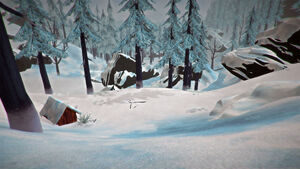 Rabbit Grove is a location in Coastal Highway.
Overview
Edit
Rabbit Grove lies just north-west of Bear Creek Campground, on the opposite side of the creek.
Rabbit Grove is populated with rabbits in and around the area.
Reishi mushrooms and rose hips can be harvested nearby. A lone fishing hut rests high above the creek close to Rabbit Grove.
Ad blocker interference detected!
Wikia is a free-to-use site that makes money from advertising. We have a modified experience for viewers using ad blockers

Wikia is not accessible if you've made further modifications. Remove the custom ad blocker rule(s) and the page will load as expected.