Nomad is one of five challenges in The Long Dark.
Overview
Edit
The Nomad challenge is a challenge that asks the player to spend 3 whole days in each location listed in their journal. The locations are not located in any one region but are scattered between the many different maps, spanning the world.
The journal automatically tracks how long the player has been at each location in increments of a tenth of a day. Once the player has been at a location for three days, a notification will appear at the top right of the screen saying that the location is complete and a green check mark will appear next to the location in the journal. When the last location is complete, the challenge immediately ends. Once the challenge ends, the player can not go back and look at the journal.
Other information
Edit
The locations can be visited in any order
It is important to plan ahead so that the player does not have to double back to regions to stay at locations he or she missed
The location for Forestry Lookout has moved and the Destroyed Lookout now stands in its previous position. To complete the task in the journal, the player must stay at the new Forestry Lookout location
The Stone Church provides little protection from the elements and is by far the hardest location to survive at
Locations
Edit
The locations you need to spend 3 days in are listed in your journal; those places include: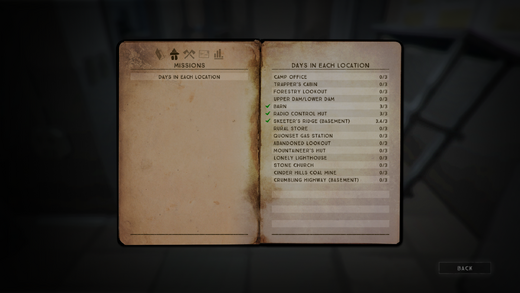 Map Locations

Edit

Journal Locations

Edit
1
MYSTERY LAKE
CAMP OFFICE
2
MYSTERY LAKE
TRAPPER'S CABIN
3
MYSTERY LAKE
FORESTRY LOOKOUT
4
MYSTERY LAKE--> PLEASANT VALLEY
UPPER DAM/ LOWER DAM
5
PLEASANT VALLEY
BARN
6
PLEASANT VALLEY
RADIO CONTROL HUT
7
PLEASANT VALLEY
RURAL STORE
8
PLEASANT VALLEY
SKEETER'S RIDGE (BASEMENT)
9
TIMBERWOLF MOUNTAIN
MOUNTAINEER'S HUT
10
PLEASANT VALLEY--> COASTAL HIGHWAY
CINDER HILLS COAL MINE
11
COASTAL HIGHWAY
QUONSET GAS STATION
12
COASTAL HIGHWAY
ABANDONED LOOKOUT
13
COASTAL HIGHWAY--> DESOLATION POINT
CRUMBLING HIGHWAY (BASEMENT)
14
DESOLATION POINT
LONELY LIGHTHOUSE
15
DESOLATION POINT
STONE CHURCH
Ad blocker interference detected!
Wikia is a free-to-use site that makes money from advertising. We have a modified experience for viewers using ad blockers

Wikia is not accessible if you've made further modifications. Remove the custom ad blocker rule(s) and the page will load as expected.