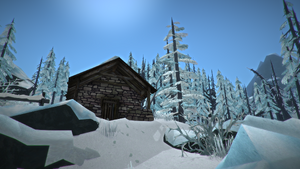 Mountaineer's Hut is small hut located in Timberwolf Mountain.
Overview
Edit
Mountaineer's Hut lies next to Crystal Lake.
It is the only suitable location for setting up a safe house in the entire region. It has a work bench, two beds, and a fireplace. There is also a large hatch in the floor that can hold up to 40kg of items.
A small number of harvestable items like crates, a shelf, and a stool can be found inside. The hut also contains a climber's journal page.
The hut is not properly insulated and there is a big hole in the roof, but it provides protection from wind and gives a warmth bonus of +10 C compared to the weather outside. In very cold weather the hut does not provide adequate protection, so it is recommended to wear high quality clothing and/or keep a fire going when sleeping there.
Possible supplies
Edit
The following may spawn inside of the hut:
Between the hut and the Summit there are two cargo containers (on the first hill).
The container on the left (doesn't spawn in Interloper) as you look towards the Summit contains:
The container on the right (doesn't spawn in Interloper) as you look towards the Summit contains:
Ad blocker interference detected!
Wikia is a free-to-use site that makes money from advertising. We have a modified experience for viewers using ad blockers

Wikia is not accessible if you've made further modifications. Remove the custom ad blocker rule(s) and the page will load as expected.