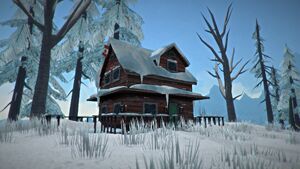 Misanthrope's Homestead is a double-storey house on a small island in Coastal Highway.
Overview
Edit
Misanthrope's Homestead can be reached by traversing over the frozen ice. The house has ample loot including processed foods, clothing, and other useful supplies.
Old man's beard lichens and birch saplings can be found on the island.
The island is often surrounded by wolves. A small cave is located on the side of the island facing the land. A bear may spawn near the cave.
Ad blocker interference detected!
Wikia is a free-to-use site that makes money from advertising. We have a modified experience for viewers using ad blockers

Wikia is not accessible if you've made further modifications. Remove the custom ad blocker rule(s) and the page will load as expected.