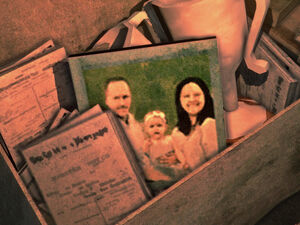 Martin Barker was a farmer in the town of Milton . He was married to Grey Mother and the father of Lilith Barker . After Lily's death, he and his wife separated. He lived in the Paradise Meadows farmhouse just outside of town. His whereabouts are currently unknown. 
In Episode 1 of the Story mode, it is explained that Martin had kept a pearl necklace that belonged to his daughter instead of buring it with Lily as his wife requested. 
Ad blocker interference detected!
Wikia is a free-to-use site that makes money from advertising. We have a modified experience for viewers using ad blockers

Wikia is not accessible if you've made further modifications. Remove the custom ad blocker rule(s) and the page will load as expected.