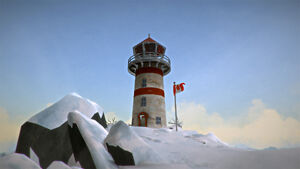 Lonely Lighthouse is a location in Desolation Point.
Overview
Edit
Lonely Lighthouse is a red-striped white tower that is highly visible and a suitable safe house for the player. While It has a bed and a pot bellied stove, it contains no work bench. A frozen corpse may be found on a nearby cliff face.
A decent amount of supplies can be looted from inside the lighthouse.
The Lighthouse has four floors plus the catwalk. The ground floor is a small room with a decent amount of storage and a stove. There is a bed on the second floor. The third floor includes three lockers and some wooden boxes and pallets. The fourth floor provides access to the roof hatch. The top part of the lighthouse consists of the lantern room and surrounding metal catwalk (called a gallery). The top is considered outside, and the player will go through a loading screen whenever passing through the hatch. The lamp in the lantern room is not interactable. From the catwalk, you can see the road, the ocean, a mine and Hibernia Processing.
There are two ways to get to the Lighthouse. Scaling the side of the cliff, or taking the path from the road which consists of two wooden bridges. From The Riken, it is faster to scale the side if you are not overburdened.
Ad blocker interference detected!
Wikia is a free-to-use site that makes money from advertising. We have a modified experience for viewers using ad blockers

Wikia is not accessible if you've made further modifications. Remove the custom ad blocker rule(s) and the page will load as expected.