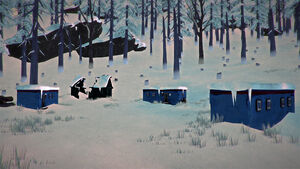 Logging Camp is a collection of several small trailers - presumably to shelter the loggers of the nearby Clearcut in Mystery Lake.
Overview
Edit
The logging camp consist of three small, temporary structures and a ruined building.
There is a possible starting point on a hill south of the camp, near the cut trees.
Valuable supplies can be scavenged from inside the camp, including warm clothes, food, many items that can be scrapped for cloth, and a Storm lantern, all the trailers have bunk beds as well, although there are no stoves here! The ruined building may have a Hatchet, a corpse, and firewood.
Beware of wolves lurking nearby.
Ad blocker interference detected!
Wikia is a free-to-use site that makes money from advertising. We have a modified experience for viewers using ad blockers

Wikia is not accessible if you've made further modifications. Remove the custom ad blocker rule(s) and the page will load as expected.