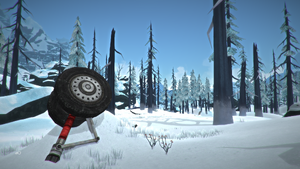 Landing Gear is a part of a wrecked plane that crashed on the summit of Timberwolf Mountain.
Overview
Edit
Rose hips can be found growing by the landing gear.
Debris from the crashed plane can be found scattered nearby and semi-buried in the snow. A canyon leading to Pleasant Valley is located near the landing gear. Nearby are lootable containers that can only be opened with a hacksaw. The containers may yield food, water, a rifle, medical items, and clothes and as well as the flare gun.
Ad blocker interference detected!
Wikia is a free-to-use site that makes money from advertising. We have a modified experience for viewers using ad blockers

Wikia is not accessible if you've made further modifications. Remove the custom ad blocker rule(s) and the page will load as expected.