Lake Overlook is a discoverable location in the Mystery Lake region.
Lake Overlook provides a view of the entirety of Mystery Lake, and can be reached in several ways. The most direct route is to climb two ropes up from near Mystery's Lake's southern access (along the river). There is a camping spot on the ledge between the two climbs. The other ways to reach the location involve hiking, either up through the forest opposite the Camp Office, or along the ridge from the direction of the Log Sort.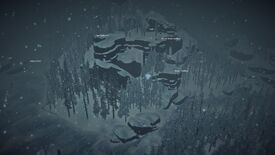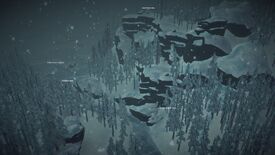 Overview
Edit
This location contains a cave and a beautiful overview spot (mind that the cave is not a location, and entering it will not prompt "New location discovered" message). There is a rabbit area near the cave. It is possible to travel to the camp office without using the ropes to go down.
It is possible to access the location by climbing the steep hill on the west bank of the frozen river, but there is no clear path.
Inside the cave may be a body with a book nearby. The cave also contains some random kinds of firewood.
Lake Overlook
Edit
There is a possible deer carcass near the location.
Possible loot
Edit
Lake Overlook is second highest place in the entire region, topped by Forestry Lookout. There are two ways to access it, by either climbing the hill adjacent to the Camp Office or by climbing up two ropes at the river. The possibilty of a lantern and a bedroll makes this a good spot to visit on any game mode.
It is assumed it was added with the Tireless Menace update, since it was discovered as late as 16 May 2016.