Lake Overview
Edit
Lake Overview is a discoverable location in the Mystery Lake region.
Discovery
Edit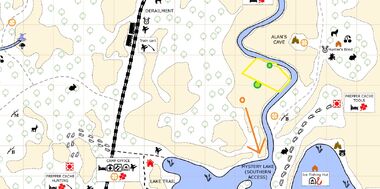 Lake Overview lies closely to Mystery Lake, since it is an overview of it. It is difficult to access. To reach it one must travel from the mystery's lake's southern access, following the frozen river. There are two rope climbs to do in order to access it. After the first climb you will arrive at a decent camp spot, with wood spawns at it and a good protection from wind. From there take another rope climb to access the location.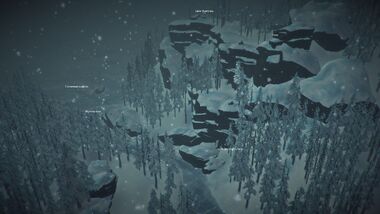 Overview
Edit
Location contains a cave and a beautiful overview spot (mind that the cave is not a location, and entering it will not prompt "New location discovered" message). There is a rabbit area near the cave. It is possible to travel to the camp office without using the ropes to go down. It may be possible that the location cannot be accessed without the rope since the path is too steep to walk up.
Inside the cave is a (possible) body with a book nearby. The cave also contains some random kinds of firewood.
Lake Overview
Edit
There is a possible deer carcass near the location.
Possible loot
Edit
Lake Overview is second highest place in the entire region, topped by Forestry Lookout. As a result the temperatures are lower than average of the region. Also it is hard to access, since you have to climb a rope twice to access it. As a result this location is barely worth visiting, unless you want to enjoy the view.
It is assumed it was added with the Tireless Menace update, since it was discovered as late as 16/05/2016.
Ad blocker interference detected!
Wikia is a free-to-use site that makes money from advertising. We have a modified experience for viewers using ad blockers

Wikia is not accessible if you've made further modifications. Remove the custom ad blocker rule(s) and the page will load as expected.