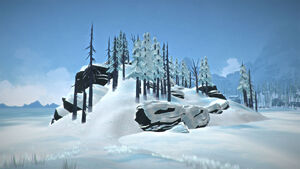 Jackrabbit Island is one of two small islands in Coastal Highway.
Overview
Edit
Jackrabbit Island can be reached by traversing over the frozen ice. The house on the island has ample loot including processed foods, clothing, and other useful supplies.
Old man's beard lichens and rose hips can be found on the island. A frozen corpse may be found between the house and the island's northern bank.
As implied by its name, Jackrabbit Island is home to numerous rabbits. Placing snares around the island will yield ample meat for the player for a long time.
Ad blocker interference detected!
Wikia is a free-to-use site that makes money from advertising. We have a modified experience for viewers using ad blockers

Wikia is not accessible if you've made further modifications. Remove the custom ad blocker rule(s) and the page will load as expected.