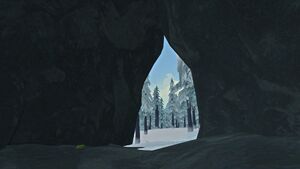 Hilltop Cave is one of several caves dotted throughout Pleasant Valley.
Overview
Edit
Hilltop Cave lies next to a Hunter's Blind, both of which are south-west of the Cave connecting to Winding River.
Old man's beard lichen and an abundance of reishi mushrooms can be found in the area. Frozen corpses, both human and deer, can also be found in the area. There's a chance of finding a backpack and some food on the cave floor. The area is also home to a herd of rabbits.
Ad blocker interference detected!
Wikia is a free-to-use site that makes money from advertising. We have a modified experience for viewers using ad blockers

Wikia is not accessible if you've made further modifications. Remove the custom ad blocker rule(s) and the page will load as expected.