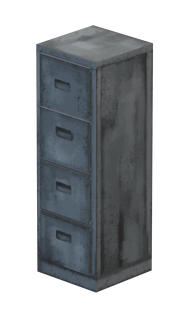 File cabinet is a stationary interactable object in The Long Dark.
File cabinet is a usual piece of an interior for indoor places which are also used as offices.
File cabinet is used as a storage for items and have four drawers. Each drawer can hold up to 10.0 kg of items, making one file cabinet total capacity of 40.0 kg.
Ad blocker interference detected!
Wikia is a free-to-use site that makes money from advertising. We have a modified experience for viewers using ad blockers

Wikia is not accessible if you've made further modifications. Remove the custom ad blocker rule(s) and the page will load as expected.