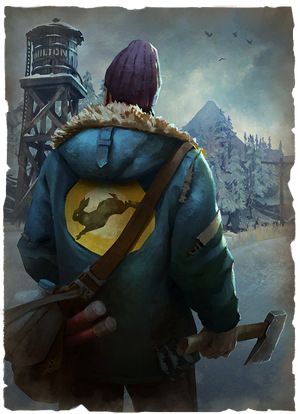 Do Not Go Gentle is the first episode in the Wintermute story mode. The initial part of the episode appears linear driven as a type of 'tutorial' for new players, introducing them to fire making, using first aid , gathering, and other survival mechanics.
In this episode, William Mackenzie's plane has crashed due to a mysterious geomagnetic event. He and fellow traveler Astrid Greenwood are now separated and William does his best to survive the wilderness while trying to find shelter. His journey takes him to the small town of Milton, where he starts to understand the extent of the quiet apocalypse.
Storyline
Edit
Dr. Astrid Greenwood unexpectedly shows up at the workplace of bush pilot Will Mackenzie. She and Will have not seen each other in years, and their parting was not under ideal circumstances. She asks him to take her to a small village in the mountains. It is late in the evening and the weather is bad. She refuses to tell him why, and what the contents are in the metal locked briefcase she is carrying. When he protests, she becomes frustrated and starts to leave. He stops her and reluctantly agrees to take her.
During the trip, an unnatural phenomenon occurs, depriving the plane of power, sending the plane into a rocky ravine. Will finds himself alone, injured, in the dark in freezing temperatures, and with no sign of Astrid. 
Survival of the Fittest
Edit
Echoes of Astrid
Edit
The Grey Mother
Edit
Paradise Lost
Edit