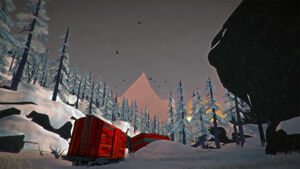 Derailment is a small train wreck in Mystery Lake, south of Logging Camp, and north of Camp Office.
Overview
Edit
Derailment consists of a small train wreck near the center of the Mystery Lake region. Two wolves may be encountered, and a deer corpse can be around the train wreck. Inside of the train car, there is a chance for: a corpse, a metal container, a back pack, and on rare instances a .303 hunting rifle to spawn.
To enter the cart you must walk up a fallen tree, you cannot enter the train cart that is on it's side.
Ad blocker interference detected!
Wikia is a free-to-use site that makes money from advertising. We have a modified experience for viewers using ad blockers

Wikia is not accessible if you've made further modifications. Remove the custom ad blocker rule(s) and the page will load as expected.