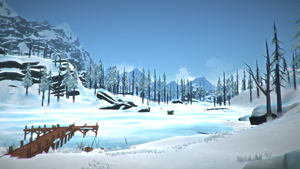 Crystal Lake is small frozen lake located in Timberwolf Mountain.
Overview
Edit
Mountaineer's Hut lies next to Crystal Lake.
The lake has a dock and a single fishing hut with some supplies and an ice fishing hole for fishing.
A large number of cat tail plants can be found growing on the banks of the lake. Rose hips and old man's beard lichen can also be found in the area.
Deer and other wildlife can frequently be found wandering by the lake.
Ad blocker interference detected!
Wikia is a free-to-use site that makes money from advertising. We have a modified experience for viewers using ad blockers

Wikia is not accessible if you've made further modifications. Remove the custom ad blocker rule(s) and the page will load as expected.