The Crashed Prison Transport Bus (or Tunnel Collapse) is a location in the Mountain Town region, located to the south of Milton, past the Orca Gas Station.
Overview
Edit
The bus, which was carrying inmates to Blackrock Federal Penitentiary prior to the First Flare, is half-buried in snow and rubble from the collapsed tunnel and cannot be entered. The frozen corpse of an inmate can be found nearby and looted. A briefcase can also be found nearby, containing the Prison Transport Manifest.
Wintermute
Edit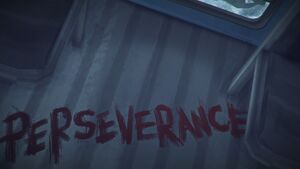 Although the locale can be encountered at any point while exploring Milton, it must be visited as part of the main Episode 1 questline. Grey Mother sends Will Mackenzie to investigate the tunnel, where he finds the bus crash and the collapsed tunnel. A cutscene shows Will noticing the scrap of clothing in the bus door, and then revealing the word PERSEVERANCE written in blood on the floor inside the bus, presumably by Dr. Astrid Greenwood, leading Will to believe that Astrid made her way to the town of Perseverance Mills.
Prison Transport Manifest
Edit
The Prison Transport Manifest journal item reveals that the transport bus was traveling to Blackrock Federal Penitentiary. The full text of the manifest is below:
"
PRISON TRANSPORT MANIFEST

The following felons are slated for immediate transport to Blackrock Federal Penitentiary.
Scheduled arrival: Thursday, November XX, 20XX:

WHITE, S.
IRVINE, K.
KANG, D.
KELLEY, P.
HARRIS, S.
GABAS, E.
NG, R.
LECLERC, Y.
KOWALSKI, M.
BAKER, J.
DESCUBES, V.

Total roster: 11 inmates
Known medical conditions: None.

"
Actually, the names of prisoners are names of Hinterland Dev Team:
WHITE, S. - Skylar White - Testing Lead
IRVINE, K. - no information
KANG, D. - no information
KELLEY, P. - Paul Kelley - Character Artist
HARRIS, S. - Simon Harris - Enviro Artist
MATHIS, D. - actual in-game character
GABAS, E. - Eric Gabas - Environment Lead
NG, R. - no information 
LECLERC, Y. - no information
KOWALSKI, M. - Maciej Kowalski - Technical Artist
BAKER, J. - Joel Baker - Programmer
DESCUBES, V. - Vincent Descubes - Programmer
Ad blocker interference detected!
Wikia is a free-to-use site that makes money from advertising. We have a modified experience for viewers using ad blockers

Wikia is not accessible if you've made further modifications. Remove the custom ad blocker rule(s) and the page will load as expected.