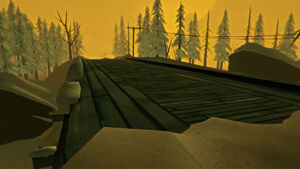 Contemplation Bridge is type of beam bridge in Pleasant Valley.
Overview
Edit
Contemplation Bridge is one of many bridges in the region. It serves to connect the main road that runs from Long Curve to End of the Road.
Contemplation Bridge is east of Pleasant Valley Outbuildings. Some cat tail plants can be found growing by the river bank near the bridge.
The name can refer to someone "contemplating" jumping off in an act of suicide, since there is a considerable drop from the bridge to the ground below.
Ad blocker interference detected!
Wikia is a free-to-use site that makes money from advertising. We have a modified experience for viewers using ad blockers

Wikia is not accessible if you've made further modifications. Remove the custom ad blocker rule(s) and the page will load as expected.