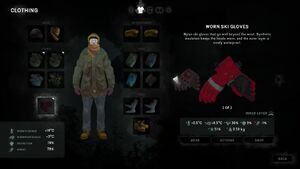 Clothing provides protection from the ambient temperature and outdoor wind chill by adding a "Clothing Bonus" and a "Clothing Windchill Bonus". Only the outermost layer of clothing adds to the "Clothing Windchill Bonus". Therefore the clothes with the best windchill stats should be worn on top. (The same holds true for "Protection" and "Waterproofness" attributes as well)
The "Clothing Bonus" is a constant effect and will increase the "Feels Like" temperature at all times so long as the player has the clothing equipped. The "Clothing Windchill Bonus" is only effective when the player is sustaining a temperature drop from windchill and acts to negate it. The bonuses are added to the true temperature (ambient temp. + wind chill) and are displayed by the "Feels Like" temperature.
The amount of bonus each article of clothing provides varies depending on the type, quality, and condition of the item, making it essential that the condition of the clothing is maintained through repair. Equipping clothing on your character consists of two layers (inner and outer) for the torso, legs, and feet, and one layer for the head, neck, and hands. The windproof and warmth bonuses are scaled linearly based on the quality of your gear, so repairing items and upgrading to higher quality items when available is recommended.
Clothing will become wet, then frozen in certain circumstances. Your clothes gradually become wet when it is snowing or when you walk and sprint on ice. They also become completely wet when you fall through weak ice. Clothes will start to freeze when they become completely wet. Clothes will gradually dry off when worn in warm interior locations, or when worn or placed near a fire. As clothes become wet and frozen, their warmth and windchill protection bonuses will reduce and become heavier. Furthermore, wearing frozen clothes has a risk of frostbite. How quickly clothes dry off and the amount of warmth and windchill protection lost when wet depends on its waterproofness.
Clothing also provides protection against physical damage to your character (i.e. fall injuries, burns, attacks from wildlife). However, bulkier items will restrict your ability to sprint (mobility penalty).
Head: Hats and scarfs
Edit
Weight values in brackets are used when you're wearing specific clothing. It is 3/4 of regular weight. Items that are in italics are craftable through the workbench
The balaclava can only be worn in the inner of the two head slots. It is therefore impossible to wear two balaclavas at once.
Hands: Gloves
Edit
Inner: Shirts and sweaters
Edit
Outer: Coats, vests and jackets
Edit
The vests (down vest and sport vest) can only be worn in the inner of the two clothing slots.
Inner: Underwear
Edit
Name
Weight (kg)
Warmth (°C)
Windproofing (°C)
Waterproofness (%)
Protection (%)
Mobility penalty (%)
Warmth Ratio (°C/kg)
Thermal underwear
0.25

(0.19)

1.0
0.0
20
  0
  0
  4
Wool longjohns
0.5

(0.38)

2.0
0.0
35
  1
  0
  4
Outer: Pants
Edit
Name
Weight (kg)
Warmth (°C)
Windproofing (°C)
Waterproofness (%)
Protection (%)
Mobility penalty (%)
Warmth Ratio (°C/kg)
Cargo pants
0.75

(0.56)

1.5
0.5
  0
  3
  1
  2
Combat pants
0.75

(0.56)

2.0
0.5
20
  7
  0
  2.67
Deerskin pants
2.0

(1.50)

2.0
2.0
60
10
  5
  1
Jeans
0.5

(0.38)

1.0
0.0
  0
  2
  1
  2
Snow pants
1.0

(0.80)

2.5
2.0
50
  5
  5
  2.5
Work pants
1.5

(1.12)

1.5
1.0
10
  8
  3
  1
Inner: Socks
Edit
Name
Weight (kg)
Warmth (°C)
Windproofing (°C)
Waterproofness (%)
Protection (%)
Mobility penalty (%)
Warmth Ratio (°C/kg)
Climbing socks
0.25

(0.19)

1.0
0.5
25
  0
  0
  4
Sports socks
0.10

(0.08)

0.25
0.0
  0
  0
  0
  2.5
Wool socks
0.25

(0.19)

0.5
0.0
20
  0
  0
  2
Outer: Shoes and boots
Edit
Mountaineering Boots are avaliable only in story mode
Accessories
Edit
Name
Weight (kg)
Warmth (°C)
Windproofing (°C)
Waterproofness (%)
Protection (%)
Mobility penalty (%)
Warmth Ratio (°C/kg)
Moose-hide satchel
0.25

(0.19)

0
0
  0
  0
  0
  0
Wool ear wrap
0.25

(0.19)

1.0
0.5
20
  1
  0
  4