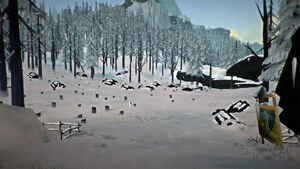 Clearcut is a location in the north-western corner of Mystery Lake.
Overview
Edit
Caution is advised when approaching Clearcut as wolves and bears frequently roam the area. A measly amount of loot can be scavenged from several frozen corpses scattered around the area.
A large sign leads to an narrow, winding road that leads to the Destroyed Lookout, a road east has a sign with a truck hauling wood leads to the Logging Camp. A small path north leads to lookout, not be be confused with the Forestry Lookout or Destroyed Lookout
Ad blocker interference detected!
Wikia is a free-to-use site that makes money from advertising. We have a modified experience for viewers using ad blockers

Wikia is not accessible if you've made further modifications. Remove the custom ad blocker rule(s) and the page will load as expected.