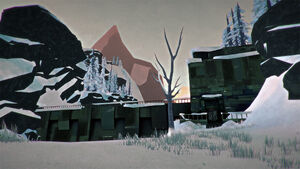 Carter Hydro Dam is a hydroelectric dam containing two generation turbines. It is quite small for a dam but a large area for The Long Dark. It exists as two separate loading levels each of which has an exit to the outside and serves as a transition zone between Mystery Lake and Pleasant Valley.
Overview
Edit
The dam is a vast multi-level complex with many lockers, boxes, drawers and other containers to search. It also contains three Work bench, a Fire barrel, and often has excellent loot (which may include high-quality clothing, tools, ammo and a rifle).
Upper levels
Edit
Exits to Mystery Lake and lower levels.
Generator Room (Fire Barrel)
Control Room (Workbench, combination safe)
Storage (Lockers)
Occupant
Edit
The dam is inhabited by a wolf, named by The Long Dark community 'Fluffy'[citation needed]. She often surprises new players and it can be quite a thrill learning to counter her. Once killed, she will not be replaced for the remainder of that game.
Fluffy begins in the generator room. Upon detecting the player, she will move towards them. She is and behaves in all other ways like a normal wolf. Players often encounter her at the tunnel that connects upper generator room and control room. However, if you stay too long at the control room, she will find you and will suprise attack the player.
Fluffy can be easily killed with a Hunting rifle, however it requires some skill. It is very hard to kill her with Survival bow.
NOTE: If you are in Pilgrim Mode, Fluffy will not spawn (verified by tweet from developers)[1].
In Voyageur mode Fluffy - and other hostile wildlife - will not appear during the first twelve to twenty-four hour safety period.[2]
Lower levels
Edit
Exits to Winding River and upper levels.
Regulators
Turbines
Lounge
Occupant
Edit
Behind the metal hatch to the Upper Levels at the top of some stairs (in the dark) is a body, unofficially named "Frank"[citation needed]. Note the broken arrows and something hanging from the latch nearby.
The exit door to Winding River is one-way, the door is a firedoor and it does not have a handle on the outside.
Entrance
Edit
The entrance from Winding River is one-way, through a window that cannot be reached back to once inside. Reaching it requires walking across the narrow front of the dam, accessed through the broken fence near the exit.
References
Edit
Ad blocker interference detected!
Wikia is a free-to-use site that makes money from advertising. We have a modified experience for viewers using ad blockers

Wikia is not accessible if you've made further modifications. Remove the custom ad blocker rule(s) and the page will load as expected.