"
For intermediate players. Previous seismic activity means this section of the Trans-Island Railway Line is dramatically interrupted. Be careful you don't become lost in its many twisting routes. Connect to Forlorn Muskeg.

- In game description

"
Broken Railroad is the seventh region to be added to the sandbox. The region connects to Forlorn Muskeg at one end of the rail line.
Locations
Edit
Broken Railroad includes several discoverable locations.
The rope climbing rock to the east of the Maintenance Yard leads to a hidden winding path in the mountains above the region. It is not currently accessible except by scaling the rocks. At the end of the path is a locked gate. This path may eventually connect to another region.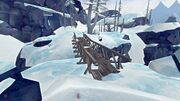 Ad blocker interference detected!
Wikia is a free-to-use site that makes money from advertising. We have a modified experience for viewers using ad blockers

Wikia is not accessible if you've made further modifications. Remove the custom ad blocker rule(s) and the page will load as expected.