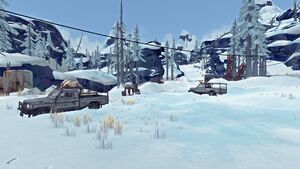 Breyerhouse is a logging company active around the Broken Railroad and Mystery Lake regions.
Little is known about the company, except that they have road-rail trucks along the Trans-Island Railway Line. The Forest Talkers allege that Breyerhouse have been carrying out illegal logging of old growth in the vicinity of Mystery Lake.
The name Breyerhouse is possibly inspired by Weyerhaeuser, a timberland real-estate trust and wood product company headquartered in Seattle, Washington.