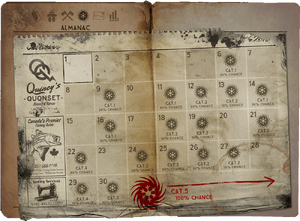 An almanac (also spelled almanack and almanach) is an annual publication that includes information such as weather forecasts, farmers' planting dates, tide tables, and tabular information often arranged according to the calendar.[1]
Game history
Edit
The almanac was first introduced in version 0.346 - also known as the Penitent Scholar update - to support gameplay for the Whiteout challenge.
References
Edit
Ad blocker interference detected!
Wikia is a free-to-use site that makes money from advertising. We have a modified experience for viewers using ad blockers

Wikia is not accessible if you've made further modifications. Remove the custom ad blocker rule(s) and the page will load as expected.