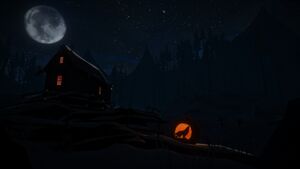 4 Days of Night, often abbreviated as 4DON, is an annual Halloween-themed event in The Long Dark. It is only available for four days every year.
| Year | Start date | End date |
| --- | --- | --- |
| 2016 | 28 October 10AM PST |   1 November 10AM PST |
| 2017 | 27 October 11PM PST | 31 October 11PM PST |
The event includes the following features:
4 Days of Night is currently the only in-game event that has been hosted. In 2017, the event was sequestered to a beta branch of the game available through the Steam client, meaning that participation is entirely optional. As of 2017, 4 Days of Night is only available to Steam users and is not accessible on console versions of the game.
Since the event is essentially a new game, all stats and settings are reset for the duration of the event. As gamma contrast have to be adjusted again, it's worth looking up the value of the setting before downloading the new content, in order to keep the darkness at the same level during the event.
Changes from the regular mode
Edit
During the event the player will have to explore and scavenge in the world partially submerged in darkness. The primary goals of the game are still the same but some things have been changed since the player would get stuck otherwise. This means crafting, reading and repairing are possible to do in complete darkness. The visibility limitations of fog, storms and blizzard are even more apparent in the night, but likewise a starry sky can provide almost day-like view outside. It can however be easier to sleep off a blizzard, as a regular sleeping pattern is not as important when there is same amount of light outside all day.
There appears to be a slight increase to the amount of lantern fuel and jerry cans spawning in houses.
Outside some houses, small bowls containing a mix of 3-4 candy bars and energy bars can be found. During the event, the candy bar has its calorie value raised to 2500, although the energy bar still only provides 500 calories.
The in game clock in the top right on the HUD does not move during the event but rather switches between early night (the moon is placed in the left side) and late night (the moon is placed in the right side).
External links
Edit